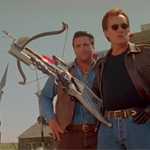 VAMPIRES is a cocky asshole of a horror-western strutting into John Carpenter's filmography late, not giving a shit, rubbing everybody the wrong way. I've always dug it, though, and I think these days it's more widely appreciated than it used to be.
The premise, taken from the novel Vampire$ by John Steakley, is that a team of vampire hunters funded by the Vatican travels the southwest tracking nests of vampires and exterminating them with professional grade equipment. James Woods (THE GETAWAY) plays the leader of the team, Jack Crow, maybe the only time he gets to be the leather-jacket-wearing asskicker. The Kurt Russell. The guy who struts around and shoots crossbows and punches people and never once wears a suit.
We see how their job works as the team raids a boarded up old house somewhere in the sunny desert, busting in like a SWAT team, sweeping it room by room to find the bloodsuckers, using a spear and pulley system to drag them out into the sunlight where they flare up and explode (all practical fire effects, from the looks of it). Montoya (Daniel Baldwin, KING OF THE ANTS, PAPARAZZI) mans the Jeep and winch, using a hunting knife to pull the charred skulls out of their kills and line them up on the hood as trophies. (read the rest of this shit…)
VERN has been reviewing movies since 1999 and is the author of the books SEAGALOGY: A STUDY OF THE ASS-KICKING FILMS OF STEVEN SEAGAL, YIPPEE KI-YAY MOVIEGOER!: WRITINGS ON BRUCE WILLIS, BADASS CINEMA AND OTHER IMPORTANT TOPICS and NIKETOWN: A NOVEL. His horror-action novel WORM ON A HOOK will arrive later this year.