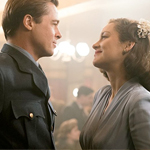 ALLIED is an unassuming, quick-paced WWII spy thriller/tragic romance combining the slick directivational chops of Robert Zemeckis (BEOWULF) with the smart guy writing of Steven Knight (EASTERN PROMISES, REDEMPTION, LOCKE). Brad Pitt (CUTTING CLASS) plays Canadian-born spy Max Vatan, who parachutes into French Morocco and pretends to be the Parisian husband of secret resistance leader Marianne Beausejour (Marion Cotillard, RUST AND BONE, TAXI, FURIA). He's dropped right into the fire, instantly feigning intimacy with this woman as he meets her for the first time sitting with a table of Germans (I think?) at a restaurant. It's kind of like that story about James Brown calling young Bootsy and his band The Houseguests and flying them in to walk right out on stage and play a show with him. Except way more dangerous. And less funky.
I feel like I've gotten off track here.
In private Marianne hammers Max on his terrible Parisian accent, and they very professionally put into place a plan we're not let in on. It's not until shortly before the shit goes down that they give in to the elephant in the room, or in this case the car, as they make love inside one while the windows are covered by a brutal sandstorm. (read the rest of this shit…)
VERN has a new action-horror novel out called WORM ON A HOOK! He has been reviewing movies since 1999 and is the author of the film criticism books Seagalogy: A Study of the Ass-Kicking Films of Steven Seagal and Yippee Ki-Yay Moviegoer!: Writings on Bruce Willis, Badass Cinema and Other Important Topics as well as the crime novel Niketown.