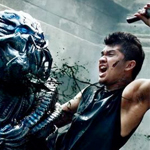 SKYLINE is an alien invasion movie that I haven't seen and never heard anything good about, but now there's a sequel on VOD called BEYOND SKYLINE, and it has Iko Uwais and Yayan Ruhian from THE RAID in supporting roles. The fact of the matter is if they put those two in a movie then there's a high chance I'm gonna watch it. I mean if it gets to the point where they're doing non-fighting cameos in Sandra Bullock relationship dramas or wacky ironic "grindhouse" movies with Danny Trejo and Sid Haig then my dedication will be tested. But for now it's a pretty effective hook.
A better reason to watch it is the actual lead, Frank Grillo. Chances are you either already love him or are unfamiliar with his recent ascension to torch-bearer of a certain masculine ideal. He caught my eye in THE GREY and WARRIOR, and he was the main villain in the Chinese smash WOLF WARRIOR 2, but generally when he gets into big movies it's like secondary villain in CAPTAIN AMERICA 2 and 3 or "Squadron Commanding Officer" in ZERO DARK THIRTY. You gotta go a little lowbrow like THE PURGE: ANARCHY to see him as full-on leading man.
Grillo's rugged charisma anchors this messy, ambitious low budget special effects showcase. He plays an LAPD detective who, you will be in no way surprised to hear, is currently suspended because he's been drinking so much since the death of his wife. When his partner Garcia (Jacob Vargas, THE PRINCIPAL) tells him "You look worse than I imagined" it's kinda funny because Garcia is a bit of a slob but Mark is chiseled and well-groomed. (At least it's not the standard "You look like shit.") (read the rest of this shit…)
VERN has been reviewing movies since 1999 and is the author of the books SEAGALOGY: A STUDY OF THE ASS-KICKING FILMS OF STEVEN SEAGAL, YIPPEE KI-YAY MOVIEGOER!: WRITINGS ON BRUCE WILLIS, BADASS CINEMA AND OTHER IMPORTANT TOPICS and NIKETOWN: A NOVEL. His horror-action novel WORM ON A HOOK will arrive later this year.