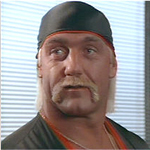 On May 26th, 1989, PINK CADILLAC starring Clint Eastwood and Bernadette Peters was released. That's a pretty good one, but I already reviewed it just a couple years ago. So look over that review if you want and now let's move on to the next week, when "Rock On" by Michael Damien was the #1 single and a movie with similar levels of quality and soulfulness, NO HOLDS BARRED, came out.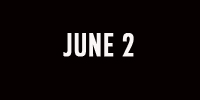 When Roddy Piper wanted to star in THEY LIVE (1988), he had to leave wrestling to do it. World Wrestling Federation owner Vince McMahon wanted a piece of everything his "superstars" did, so he promised to get Piper another, bigger movie to star in if he'd stay. As Piper told it years later, he refused the offer because he knew it wouldn't be a movie directed by John Carpenter.
Good move. A year later, the WWF's biggest icon Hulk Hogan got to star in the kind of vehicle McMahon could put together as a fledgling movie producer. NO HOLDS BARRED is an unimaginative, pea-brained wrestleploitation movie that plays most of its acting, themes, jokes and drama for the back row of the stadium.
Hogan (whose idol "Superstar" Billy Graham appeared in the infinitely better movie FIST FIGHTER earlier in the summer) basically appears as himself: the big-hearted, beloved by fans and children World Wrestling Federation champion. But he's not named Hulk, he's named Rip, and instead of wearing shirts that say "Hulkamania!" he wears shirts that say "Rip 'em!" So it's like an alternate dimension that's the same as ours except Hulk Hogan has a different name. Terrible episode of Sliders. (read the rest of this shit…)
VERN has a new action-horror novel out called WORM ON A HOOK! He has been reviewing movies since 1999 and is the author of the film criticism books Seagalogy: A Study of the Ass-Kicking Films of Steven Seagal and Yippee Ki-Yay Moviegoer!: Writings on Bruce Willis, Badass Cinema and Other Important Topics as well as the crime novel Niketown.