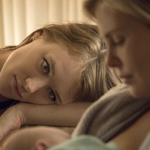 No, it's not the sequel to SULLY, smart guy. It's also not the sequel to BULLY. It's not the monster from Sesame Street, it's not the founder of the coffee chain, and it's not the device that's a wheel and the rope goes around it to lift things up. It's just TULLY. That's the name of a character. I'll explain it later. Be patient.
One thing I always get excited about: a new Diablo Cody movie. I liked JUNO and JENNIFER'S BODY was interesting and I even saw the movie she directed, PARADISE (though I don't seem to have reviewed it), and though she said she didn't rewrite much on the EVIL DEAD remake, she either helped make it great or didn't screw it up.
But it's YOUNG ADULT that made her one of my favorite screenwriters. I gotta proselytize for that movie all the time. It speaks deeply to my darkest thoughts as somebody who left the suburbs, didn't end up being a regular grown up type person, and alternates between pitying and envying the perfectly fine people who did it the normal way and have kids and houses and cars and money and shit. And it's one of the very best roles for one of my very favorite actresses, our Furiosa, Charlize Theron. (read the rest of this shit…)
VERN has a new action-horror novel out called WORM ON A HOOK! He has been reviewing movies since 1999 and is the author of the film criticism books Seagalogy: A Study of the Ass-Kicking Films of Steven Seagal and Yippee Ki-Yay Moviegoer!: Writings on Bruce Willis, Badass Cinema and Other Important Topics as well as the crime novel Niketown.