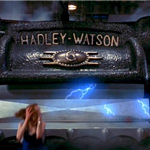 THE MANGLER (1995) is a potent mix of silly Stephen King short story premise and unhinged Tobe Hooper fever dream. That means it has  killer inanimate objects, but with the late Texas horror master's sweaty, depraved lunatic tormenters stirred in like a salted caramel swirl.
Yes, this is a movie about a possessed industrial laundry press that seems to fold more people than it does sheets. You got a problem with that? I sure did in the '90s when I saw this on VHS and thought it was the dumbest shit I ever saw. This time I was not so closed-minded. In today's world we need to have more empathy for everyone, including murderous haunted laundry machines.
You may be wondering how the hell this Mangler (actual tagline: "It has a crush on you!") manages to rack up a body count since it's not exactly Christine rolling around town listening to George Thorogood, it's a big-ass metal machine at least the size of a half-length bus and looking three times the weight, with no wheels. Well, I'm happy to report that there's a part where (SPOILER) the heroes are hauling ass down a mysterious subterranean staircase squealing "We're fucked!" as the Mangler chases and snaps at them like an angry pitbull. (read the rest of this shit…)
VERN has been reviewing movies since 1999 and is the author of the books SEAGALOGY: A STUDY OF THE ASS-KICKING FILMS OF STEVEN SEAGAL, YIPPEE KI-YAY MOVIEGOER!: WRITINGS ON BRUCE WILLIS, BADASS CINEMA AND OTHER IMPORTANT TOPICS and NIKETOWN: A NOVEL. His horror-action novel WORM ON A HOOK will arrive later this year.