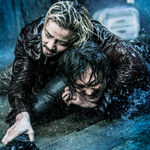 I first paid attention to Max Zhang (aka Zhang Jin) because of the modern classic KILL ZONE 2 (SPL 2). He played the villain's #1 henchman, a daintily dressed psycho with a fighting style like whirling scalpels. But I've come to know him more as a dreamy long-haired brooder like his character in IP MAN 3, who was spun off into the hero of MASTER Z: IP MAN LEGACY. And that's closer to Sai Gau, the rule-breaking cop character he plays in the, uh, aquatic police thriller THE BRINK (2017).
He's introduced just going fuckin berserk in a one-man raid on a… penthouse crackhouse? It's some sort of trashed drug den with broken windows high enough for him to throw people out of and have them destroy the police cars they land on. Psychedelically lit with primary colored lights and with a questionable amount of electric guitars on the soundtrack, he spins and kicks and chops through crowds of criminals. Not all of them survive. (read the rest of this shit…)
VERN has a new action-horror novel out called WORM ON A HOOK! He has been reviewing movies since 1999 and is the author of the film criticism books Seagalogy: A Study of the Ass-Kicking Films of Steven Seagal and Yippee Ki-Yay Moviegoer!: Writings on Bruce Willis, Badass Cinema and Other Important Topics as well as the crime novel Niketown.