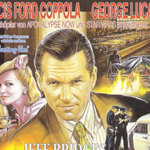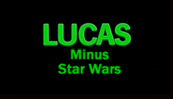 TUCKER, directed by Francis Ford Coppola (CAPTAIN EO), glorifies two of executive producer George Lucas's favorite things: cars and artistic independence. It's a starry-eyed, big-band-jazz-scored paean to Preston Tucker (Jeff Bridges), an innovator who failed to conquer the post-WWII car business, but at least made a cool car.
The titleistical dream is the idea of the Tucker, "the car of the future today," a sleek, futuristic sedan with the engine in the back and three headlights that he says will move with the front wheels for safety. He's just a dude with a scrappy company working out of a barn who invented some turrets for the army and a tank that they rejected because it moved too fast. He still owns one and uses it to drive the family into town to get ice cream. Nobody will invest in his dream until he gets it into a magazine and just acts like it's something that's happening. Next thing you know Martin Landau is able to get him meetings and investors. The Secret!
In one sense Tucker is full of shit. He thinks he can make this car, but he lets people believe he already has. He pushes his sons and trusted collaborators into overdrive to figure out how to build a good-enough prototype in time for the big unveiling. Like a movie trying to make a summer release date. The dream runs into the reality of unforeseen problems and limited time and resources, but he's happy to just build a thing that looks like the concept art. (read the rest of this shit…)
VERN has a new action-horror novel out called WORM ON A HOOK! He has been reviewing movies since 1999 and is the author of the film criticism books Seagalogy: A Study of the Ass-Kicking Films of Steven Seagal and Yippee Ki-Yay Moviegoer!: Writings on Bruce Willis, Badass Cinema and Other Important Topics as well as the crime novel Niketown.