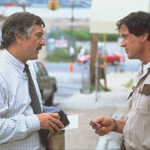 I always thought COP LAND was a sequel to WESTWORLD, but I guess it's actually a police drama about a small town in New Jersey set up by the mob to shelter corrupt New York cops outside of the city limits. Could use some out of control robots obviously but otherwise it's a good movie.
As the movie opens Freddie (Sylvester Stallone) is in a small diner where cops hang out, playing a cop-themed pinball machine. That's how he spends his birthday. He's drunk and can't stop playing, is so into it he takes his sheriff keys to go open up a parking meter and get more quarters. This is him, playing a game at being a cop, watching the city cops talk, they get mad that he's looking at them. And he can't even hear what they're saying anyway because he went deaf in one ear saving a drowning girl when he was young. It keeps him off the NYPD and makes him have to keep having people repeat things to him.
(read the rest of this shit…)
VERN has been reviewing movies since 1999 and is the author of the books SEAGALOGY: A STUDY OF THE ASS-KICKING FILMS OF STEVEN SEAGAL, YIPPEE KI-YAY MOVIEGOER!: WRITINGS ON BRUCE WILLIS, BADASS CINEMA AND OTHER IMPORTANT TOPICS and NIKETOWN: A NOVEL. His horror-action novel WORM ON A HOOK will arrive later this year.