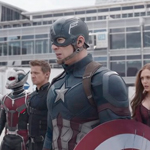 You guys know how these super heroes are. Good guys turning bad, bad guys turning good, Hawkeye getting mind-controlled by a magic crystal, alternate dimensions, recastings, reboots, team-ups, betrayals, fake deaths. It's no surprise they can't all get along. I mean, it was hard for Nick Fury to convince them to be The Avengers in the first place – in fact a guy had to die and then he had to cover up that he actually didn't die (see tv show) to inspire them to even stay together in the first place. So it's a miracle they went this long without a breakup. The Pharcyde only got through two albums. N.W.A only did one before Cube left.
In what is technically CAPTAIN AMERICA 3, but almost seems like THE AVENGERS 3, the government tries to get the Avengers to agree to being controlled by the U.N. That actually seems better than the original formation under S.H.I.E.L.D., a privacy-invading ultra-spy agency that turned out to be controlled by evil space-Nazis or whatever. But after three years of the Avengers as an indie locally-owned Mom & Pop super-team, Captain Steve R. America (Chris Evans,  STREET KINGS, SNOWPIERCER) – who, to his credit, was never comfortable with S.H.I.E.L.D. – is not about to sell out. He doesn't want to risk being sent somewhere he doesn't belong, or not being allowed to go somewhere that he does.
But Tony "the Iron Man" Stark (Robert Downey Jr., NATURAL BORN KILLERS, 1985-1986 season SNL cast member) and some of the others think it's a good idea. At the actual signing ceremony there's a bombing that kills the King of Wakanda (John Kani, THE WILD GEESE), and security photos pin it on Steve's war buddy Bucky T. Wintersoldier (Sebastian Stan, THE COVENANT, RICKI AND THE FLASH), who fell off a bridge in part 1 but in part 2 turned out to be alive and had been frozen and had a robot arm and was brainwashed and was a super assassin and evil but maybe he's still Bucky inside but now he's on the run (long story). The police and the Avengers are after him to kill him but Steve believes he can be rehabilitated and wants to bring him in alive. So it turns into a ghost protocol with Steve and an all star team of sympathizers going underground, and the two sides get into some scraps. (read the rest of this shit…)
VERN has a new action-horror novel out called WORM ON A HOOK! He has been reviewing movies since 1999 and is the author of the film criticism books Seagalogy: A Study of the Ass-Kicking Films of Steven Seagal and Yippee Ki-Yay Moviegoer!: Writings on Bruce Willis, Badass Cinema and Other Important Topics as well as the crime novel Niketown.