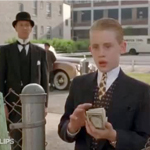 Somehow I saw the movie RI¢HIE RI¢H when it was released in 1994. I never planned to watch it again, but I did while researching that '90s comic book movie piece a while back, so what the hell? You guys seemed to like when I did a review of CASPER. Maybe it's good to beef up the Harvey Comics portion of the archive.
Not particularly popular in its time, and based on concepts from a comic book started in the '50s, it might not be entirely fair to look at this movie as representative of our attitudes in the '90s. Still, it says something that Warner Brothers felt this was a story people would want to see, and that it should be presented in this specific way.
I looked up some of the other family movies of '94, and they include THREE NINJAS KICK BACK, LITTLE BIG LEAGUE, ANGELS IN THE OUTFIELD, THE SANTA CLAUSE and THE PAGEMASTER. I haven't seen any of those and I don't know how they open, but you can imagine throwing stars, baseballs, footballs, Christmas presents or books dancing around some of those titles when they appear on screen. For RICHIE RICH, the magic of sports or holiday fantasy or reading is replaced by, you know, extreme wealth. So a fantastical Alan Silvestri (BACK TO THE FUTURE, WHO FRAMED ROGER RABBIT, SUPER MARIO BROS., AVENGERS: ENDGAME) score plays as a vault opens to reveal the shimmering title. (read the rest of this shit…)
VERN has been reviewing movies since 1999 and is the author of the books SEAGALOGY: A STUDY OF THE ASS-KICKING FILMS OF STEVEN SEAGAL, YIPPEE KI-YAY MOVIEGOER!: WRITINGS ON BRUCE WILLIS, BADASS CINEMA AND OTHER IMPORTANT TOPICS and NIKETOWN: A NOVEL. His horror-action novel WORM ON A HOOK will arrive later this year.