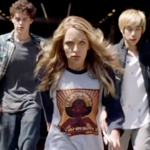 HAPPY DEATH DAY was a well-executed take on a fun premise: a slasher GROUNDHOG DAY where mean sorority girl Tree Gelbman (Jessica Rothe, LA LA LAND) has to keep reliving her birthday until she figures out who the fuck keeps stabbing. As she investigates everybody around her she starts to understand their lives better and be nicer to them. Except the one who killed her, who she kicks out a window. I wished it had been Rated-R to take gory advantage of the "heroine dies repeatedly" gimmick, but they made it work, largely because Tree is such a compelling character. Like Bill Murray in that other time loop movie she gets to be a fun asshole, which is so rare for a female lead.
In the sequel we get to see a little bit of the creepy baby mask, but the mystery of who's stalking her is pretty much irrelevant. Sure, they revisit it in alternate timelines where it's different people behind the mask, but there's not as much suspense to be wrung out of it, so it shifts a little away from the horror comedy and more into sci-fi comedy, again made fun by the character of Tree and the performance of Rothe. If anything she's even a little better in this one. (read the rest of this shit…)
VERN has been reviewing movies since 1999 and is the author of the books SEAGALOGY: A STUDY OF THE ASS-KICKING FILMS OF STEVEN SEAGAL, YIPPEE KI-YAY MOVIEGOER!: WRITINGS ON BRUCE WILLIS, BADASS CINEMA AND OTHER IMPORTANT TOPICS and NIKETOWN: A NOVEL. His horror-action novel WORM ON A HOOK will arrive later this year.