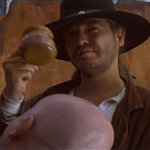 There's a precedent for people who star in low budget movies just to help a buddy out but then keep acting and end up with big careers almost by accident. Bruce Campbell in THE EVIL DEAD, for example. Or Owen and Luke Wilson in BOTTLE ROCKET. You could even say Sharlto Copley, a filmmaker who Neil Blomkamp wanted to put in DISTRICT 9, and the next thing you know he's a member of the A-Team!
So it's not surprising that Robert Rodriguez's buddy and co-producer Carlos Gallardo's starring role in EL MARIACHI wasn't his last. Sure, he was replaced by Antonio Banderas in the sequel (and knocked down to a smaller role), but in 1998 he got to play another title character in the mostly-English-language Mexican production BRAVO. This time he's not a regular guy, he's "best of the best" Mexican Secret Service agent Carlos Bravo, who's secretly in love with the president's daughter. (Don't worry, she's an adult.) Rather than guitar he plays pretty violin music for her (badass juxtaposition).
But when the daughter is spotted sneaking out of Bravo's room he gets fired. Luckily he has his leather jacket there and his hog parked at the front door, so he's able to drive off into a new life. (read the rest of this shit…)
VERN has a new action-horror novel out called WORM ON A HOOK! He has been reviewing movies since 1999 and is the author of the film criticism books Seagalogy: A Study of the Ass-Kicking Films of Steven Seagal and Yippee Ki-Yay Moviegoer!: Writings on Bruce Willis, Badass Cinema and Other Important Topics as well as the crime novel Niketown.