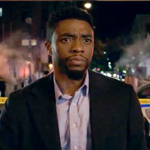 21 BRIDGES is a police thriller with some action. It reminds me of the kind of stuff studios made in the '90s, when maybe it would've starred Denzel or Wesley Snipes or maybe Samuel L. Jackson if he'd been offered it during that window when he could be the main character and starred in THE NEGOTIATOR. But it was made in 2019, so it stars Chadwick Boseman and is produced by his CAPTAIN AMERICA: CIVIL WAR, AVENGERS INFINITY WAR/ENDGAME directors Joe and Anthony Russo (as well as Boseman himself).
Boseman plays Andre Davis, NYPD detective, son of a murdered cop, infamous for shooting and killing 8 perps in 9 years, but he insists they were all justified, and it's obvious he's the type of good guy we can trust on that. The types we can't trust are all over the movie, and they're obvious too.
Tonight's Andre Davis Mystery involves two criminals, one more reasonable and moral than the other, busting into a restaurant to steal a stash of cocaine. The one guy there basically tells them they're making a mistake, that they will die, and then willingly gives them the keys and the location of the vault. Not like he's scared of them, more like there's no reason to interfere, they're not going to get away with it. (read the rest of this shit…)
VERN has a new action-horror novel out called WORM ON A HOOK! He has been reviewing movies since 1999 and is the author of the film criticism books Seagalogy: A Study of the Ass-Kicking Films of Steven Seagal and Yippee Ki-Yay Moviegoer!: Writings on Bruce Willis, Badass Cinema and Other Important Topics as well as the crime novel Niketown.