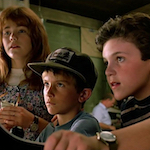 Ever since 1989 I have been curious what the deal is with this "THE WIZARD" Nintendosploitation movie starring Fred Savage. But back then I was pretty busy having Batmania, so I remember I said "I better wait for Shout Factory to release a remastered 2-disc collector's edition Blu-Ray." And now that day has come.
The movie opens with Jimmy (Luke Edwards, I KNOW MY FIRST NAME IS STEVEN, NEWSIES, LITTLE BIG LEAGUE, JEEPERS CREEPERS 2), a seemingly autistic boy, walking along a desert highway. He must've been walking for a while, because there's a small plane looking for him. When a cop comes and gets him, all the poor kid will say is "California."
His motives are mysterious, but we're told he's been horribly traumatized, so it must have something to do with that. That doesn't make his jerky stepdad (Sam McMurray, C.H.U.D., STONE COLD, CLASS ACT) any more patient with his wandering, so he decides to put Jimmy in what everyone keeps referring to as "a home." That especially pisses off Jimmy's brother or half-brother or whatever, Corey (Savage, director of DADDY DAY CAMP), who lives with his older brother Nick (Christian Slater, HE WAS A QUIET MAN) and drunk loser dad (Beau Bridges, MAX PAYNE). (read the rest of this shit…)
VERN has a new action-horror novel out called WORM ON A HOOK! He has been reviewing movies since 1999 and is the author of the film criticism books Seagalogy: A Study of the Ass-Kicking Films of Steven Seagal and Yippee Ki-Yay Moviegoer!: Writings on Bruce Willis, Badass Cinema and Other Important Topics as well as the crime novel Niketown.