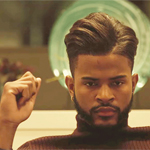 There's a new theatrically released remake of SUPER FLY called SUPERFLY. Adapted by screenwriter Alex Tse (WATCHMEN, SUCKER FREE CITY), it's updated to 2018 and relocated to Atlanta, but itstill tells the story of flamboyantly smooth drug kingpin Youngblood Priest (Trevor Jackson, Grown-ish, The Lion King on Broadway) trying to pull off one last big score so he can get out of the game. He still has his partner Eddie (Jason Mitchell, STRAIGHT OUTTA COMPTON, DRAGON EYES), employee-of-questionable-judgment Fat Freddy (Jacob Ming-Trent, Shrek the Musical), and girlfriend Georgia (Lex Scott Davis, TONI BRAXTON: UNBREAK MY HEART). He still has to deal with The Man (corrupt cops want a piece of his business) but now there's also a Mexican cartel leader (Esai Morales, THE PRINCIPAL, PAID IN FULL, NEVER BACK DOWN: NO SURRENDER) and a scene involving crypto-currency (I'm glad he doesn't say the word out loud, like in one of the ads I saw).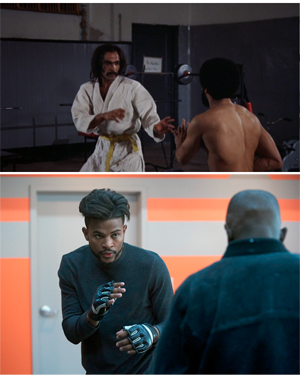 You may or may not remember that in the original movie Priest had a scene where he spars with a personal karate instructor. Thankfully, Tse did remember. In the update Priest's boss and crime mentor Scatter (Michael Kenneth Williams, MERCENARY FOR JUSTICE, ROBOCOP) is also his jiujitsu teacher and keeps a low profile by sticking around the dojo teaching people to fight. Like Frank Lucas in AMERICAN GANGSTER he preaches not calling too much attention to yourself, and symbolically wears a brown belt instead of his true level of black.
So, as you can imagine, I liked this movie. (read the rest of this shit…)
VERN has a new action-horror novel out called WORM ON A HOOK! He has been reviewing movies since 1999 and is the author of the film criticism books Seagalogy: A Study of the Ass-Kicking Films of Steven Seagal and Yippee Ki-Yay Moviegoer!: Writings on Bruce Willis, Badass Cinema and Other Important Topics as well as the crime novel Niketown.