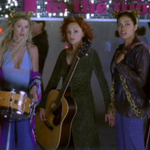 Before Riverdale, before the Marvel Cinematic Universe, before Christopher Nolan Batman, before 9-11 even, there was a different type of comic book movie: JOSIE AND THE PUSSYCATS. Inspired by the Archie comic book and Hanna-Barbera cartoon, writer/directors Harry Elfont & Deborah Kaplan told a goofy version of the little-rock-'n-roll-band-tested-by-overnight-superstardom story.
Actually maybe we should forget about comics and consider this timeline: it was a year before American Idol started. The Spice Girls had packed it up the year before. NSYNC and Backstreet Boys were still popular. The movie seems to offer the Pussycats as a refreshing alternative for teenage girls to obsess over instead of boy bands, but it should be noted that Destiny's Child, Alicia Keys, Jennifer Lopez, Janet Jackson, Brandy, Madonna, Mary J. Blige, Pink, and Aaliyah (plus Britney Spears and Jessica Simpson) all had hits that year. But I guess the Pussycats do stand out by playing instruments. Their songs are kind of sassy pop punk, not good in my opinion but not as intolerable as some in-movie music. (read the rest of this shit…)
VERN has a new action-horror novel out called WORM ON A HOOK! He has been reviewing movies since 1999 and is the author of the film criticism books Seagalogy: A Study of the Ass-Kicking Films of Steven Seagal and Yippee Ki-Yay Moviegoer!: Writings on Bruce Willis, Badass Cinema and Other Important Topics as well as the crime novel Niketown.