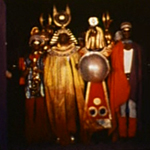 "Equation-wise the first thing to do is to consider time as officially ended. We work on the other side of time. We'll bring them here through either isotope teleportation, trans-molecularization, or better still, teleport the whole planet here through music."
There's no way around it: SPACE IS THE PLACE (1974) is a crazy fuckin movie. And not in the common manner of movies that are obviously trying to be weird to get a rise out of you. More like you watch it and wonder who the hell made this movie. Actual crazy people? A UFO cult of some kind? Inmates at an asylum that uses free jazz and guerrilla filmmaking as therapy? The people in question, crazy or not, are Sun Ra and His Intergalactic Solar Arkestra, the one-of-a-kind cosmically themed avant-garde jazz army from Philadelphia by way of New York by way of Chicago by way of Saturn. They land their space ship in Oakland, California, hang out a while, perform, and try to find ideal new recruits for their all black space colony.
Sun Ra wasn't always a space man. Early in the movie we see him as Sonny Ray, the piano player at a black Chicago night club circa 1943. The real life Sonny Blount indeed played clubs like this. He was a talented pianist backing up touring musicians and leading his own highly skilled bands, renowned for being able to play in many styles.