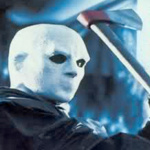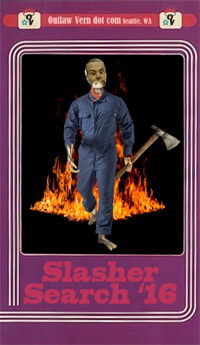 EDGE OF THE AXE is a 1988 slasher movie that looks and feels a few years earlier to me. It's got a masked killer and a whodunit and most of what you need besides some imagination.
It starts pretty legit with a nurse getting her car washed, enjoying a cigarette inside when suddenly a dude in a featureless white mask appears and axes her through the windshield. Blood drips down the inside of the passenger side window while suds drip down the outside.
This same masked man (or at least a guy in the same outfit) starts chopping up people in a small town nearby, and the cops and citizens try to figure out who it is.
Gerald (Barton Faulks, FUTURE-KILL) is a young man who rides a motorcycle, so he's a rugged individualist, but he wears a helmet, so he's unusually safety conscious for a movie character of the time. He just bought a new computer and he's excited about it, so he's also a genius or a nerd or something. He works as an exterminator with his buddy Richard Simmons (Page Mosely, GIRLS NITE OUT) who is not the famous aerobics instructor, but a tail-chasing jock dude who wears bodybuilding shirts and plays darts. (read the rest of this shit…)