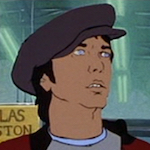 "Music is about the full range of the human condition – good, great, bad, sad. That's the thing about a classic song – it can keep you going, even if you're bleeding from the heart." —Ralph Bakshi
You know who Ralph Bakshi is, right? An animator who worked for Terrytoons as a teenager in the '50s, did the Spider-man cartoon in the '60s, then became sort of the godfather of adult animation in the U.S. by directing the X-rated FRITZ THE CAT. After a few years of that he switched up to be the animated fantasy guy with WIZARDS (1977), THE LORD OF THE RINGS (1978) and FIRE AND ICE (1983). The only movie I've reviewed by him is his last animated feature (he's retired from animation now), 1992's COOL WORLD, which I did as part of my 'Summer Flings' series ("a survey of summer movies that just didn't catch on").
Now that I think about it I really should write about more of his movies some day, especially those urban ones from the '70s. But for now I had this whim that I want to look at the brief, strange trend of rock 'n roll inspired animated features in the '80s. And that started in February, 1981 with the release of Bakshi's unique, odd epic AMERICAN POP.
How's this for a highfalutin premise: it's about four generations of an immigrant family and how the history of American popular music weaves through their lives. It starts in Imperial Russia in the 1890s, with intertitles like a silent film, and ends with a stadium rock concert in the '80s, animated in a flashy style more inspired by music videos of the time. After young Zalmie Belinski's rabbi father is killed by the Cossacks, he moves to New York City, where he hangs out backstage at a burlesque show, becomes the back half of a horse costume, then a clown, but wants to sing. The movie follows Zalmie and his descendants through World War I and II and Vietnam, through Vaudevillians, mobsters, beatniks, hippies, punks and, uh… Bob Seger. (read the rest of this shit…)