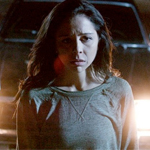 FENDER BENDER is a new slasher movie that I believe is the first original production by the great releasers-of-horror-classics-on-blu-ray Shout! Factory. The high concept is that there's a killer who intentionally gets in small car collisions, exchanges contact information, and then comes after the person.
Hillary (Makenzie Vega, the little girl who Mystique turns into on the prison truck in X-MEN THE LAST STAND!) is a responsible teenager in New Mexico, an aspiring ballet dancer, under way too much pressure from her strict parents. Shortly after getting her driver's license this shades-wearing cool guy (Bill Sage, AMERICAN PSYCHO) rear ends her, and her dad (Steven Michael Quezada, THE CONDEMNED 2) blames it on her and won't let her go with them on a long-planned vacation to see a show in Vegas.
We know that this guy is a serial killer, but we watch helplessly as she writes down all her information, just as she was taught in driver's ed. Then of course while she's home alone she starts getting text messages from this guy, going from "this is uncomfortable but I guess he's just trying to be polite" to "this is totally inappropriate." Can she trust the apology cake she finds on her doorstep that might come from the guy in the accident, or from her dumb jock boyfriend Andy (Harrison Sim) who she just caught cheating and dumped?
I mean, of course not. We know that. But there's no reason for her to. She doesn't know she's in a horror movie.