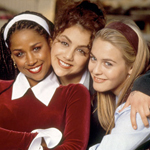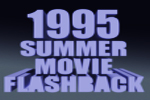 I wasn't intending to include CLUELESS in my Summer of '95 retrospective, since I mainly like to look at "blockbuster" type movies. And I feel very familiar with it. I saw it a long time ago and then I'll watch parts of it on cable now and then. But I think Mr. Majestyk or somebody said he was hoping I would do it and you know I'm like a DJ, I try to read the audience and move the crowd and what not.
And man, when you sit down and watch it from beginning to end for the first time in a while, CLUELESS really holds up. It's a funny, unique movie, one that's simultaneously very '90s in attitude, music and cultural references, and timeless because of its stylishly heightened (I hope) depiction of the world of Los Angeles rich kids. And you know what, nothing against James Acheson, who won a costume design Oscar for RESTORATION that year, but do you think he ever sent flowers to Mona May, who did this shit? I mean come on. It's brilliant. Apparently she got her start working with Julie Brown on MTV (not Downtown, the funny one who plays the gym teacher here).
Alicia Silverstone plays Cher, the spoiled daughter of an angry widower lawyer (Dan Hedaya, ALIEN RESURRECTION). She and Stacey Dash as her best friend Dionne (they were "both named after famous singers of the past who now do infomercials") in some ways fit the stereotype of Beverly Hills teen girls: they obsess over expensive name brand clothes and their own popularity, they think less about school and their futures than about boys and parties (though they don't seem very interested in drinking and look down on anything more than occasional drug use). They are superficial, but they're generally well-meaning, nice people. Then one day, inspired by ex stepbrother Josh (Paul Rudd, GEN-X COPS 2: METAL MAYHEM)'s comment about Marky Mark* attending a tree-planting ceremony, Cher decides to try using her popularity for good.
*This was before FEAR, let alone BOOGIE NIGHTS, so nobody called him Mark Wahlberg, not even his parents. (read the rest of this shit…)