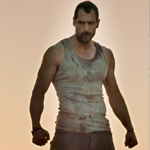 In REDEEMER, Marko Zaror plays The Redeemer, a mysterious, drifting avenger with a thing for Catholicism. He used to be a cartel hitman, now he's fulfilling a big time penance. He's got a full back tattoo of the crucifixion, carries a portable altar and various idols and penants of the saints, and I wouldn't be surprised if he wears socks sewn out of a corner of the Shroud of Turin. For 95% of the movie he keeps the hood of either his sweatshirt or his jacket up. It's not raining, so I think it's to make him look like a monk. And every day he kneels and does a prayer ritual. The weird part of it is when he rubs a bullet with a scorpion painted on it against his forehead, then plays Russian roulette. Kind of a quirky thing to do every single day, right? I guess maybe that's a thing though. I wouldn't know, I was raised Presbyterian.
Anyway this individual The Redeemer is wandering through Chile on foot when he comes across some jerks beating up a fisherman. He watches for a while before he saves the guy. He's real good with guns, but he's Marko Zaror, so he's also got some incredible kicks and punches. By rescuing the guy and taking shelter in the nearby home of a single mother they all end up involved in the man's troubles: he found a bunch of money in his fishing net, he took it, it turned out to belong to gangsters, they are not real understanding about it. So The Redeemer and friends hide in a cave while he broods and prays and doesn't talk and makes plans to clear all this up.
Plan A: Get the gangsters to promise no harm in exchange for their money back.
Plan B: Kill them all and use the money for the mom's kid's operation. (read the rest of this shit…)