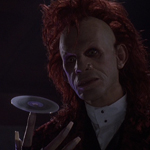 "Don't you see? Senseless violence is not entertainment."
"What is it then?"
I think I saw BRAINSCAN a long time ago and thought it was stupid. And I was right. But watching it again I think I give it a little more credit than I did back then. It's definitely not of the quality one would hope for from the director of ROLLING THUNDER and the writer of SEVEN. But even in its dated technology (it's about an evil interactive CD-ROM) it's kind of ahead of its time, and it has a very ominous tone to it, darker and more unsavory than the NIGHTMARE ON ELM STREET sequels it was aping.
Like, in the opening scene Michael (Edward "and if you want to shine them on it's 'Hasta la vista, baby"" Furlong) is talking to his best bud for life Kyle (Jamie Marsh) on the phone while watching his neighbor Kimberly (Amy Hargreaves from BLUE RUIN) change her shirt. When he comes away from the window he turns on the TV… but then we see that he's watching her on the TV from a camera he set up. Then he makes a hang up call and watches the footage of her answering in slow motion. At least he's not jerking off as far as we can see, but jesus. This is our protagonist?
Michael is not that bad a prediction of what life is like for a big chunk of society now. He's a kid who spends most of his time in his bedroom with his technology. He has a voice activated animated "Igor" on his TV screen that he tells to dial numbers for him or hold his calls or other things. It's unclear how intelligent it is. He talks on speaker phone and the TV screen shows photo montages of his friends. He's ahead of his time.
Where he gets this technology is not really spelled out, but his only parental interaction during the movie is a voicemail from his dad telling him he loves him and that "Business is going well here. I wish you were here with me to see all the new equipment." His mom died in front of him when he was a kid. It still haunts him, and is implied as maybe the reason he's so attracted to the morbid shit. (read the rest of this shit…)