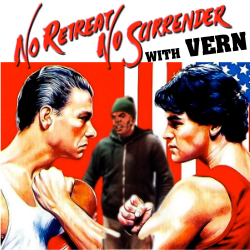 Well, I've been thinking about it for far too long, but I've finally gone and done it: my first home brew, play along commentary track. This is designed to sync up with the US cut of NO RETREAT NO SURRENDER (the shorter of the two included on the Kino Lorber DVD and blu-ray) but I think it would also work okay if you just want to listen to it like a podcast. I try to explain my love for this intersection of Hong Kong cinema and '80s American pop culture, with my usual goal of being informative and wise but also funny, sincere, and occasionally stupid. Lots of talk about little details of the movie and the people in it, the Seattle locations, the history of action movies filmed in Seattle, the worldwide phenomenon of Bruce Lee worship, some stupid stories about me, and of course plenty about Van Damme. (Sorry for slagging Chuck Norris for the same reason two different times, but I say some nice things about him too.)
I hope you enjoy this and that it shows some of my gratitude to my supporters on Patreon, who have truly improved my life by making it possible for me to only work part time at the day job and focus on writing more and better reviews for free here on outlawvern.com. If you haven't done that and you're able to, please consider it – I didn't set support levels, so even if you just do a dollar a month you get this and all the exclusive reviews that are on there.
Thanks everyone! Let me know what you think and what other types of things you might enjoy as Patreon exclusives.
This entry was posted on Friday, February 24th, 2023 at 5:53 pm and is filed under
Blog Post (short for weblog)
. You can follow any responses to this entry through the
RSS 2.0
feed. You can skip to the end and leave a response. Pinging is currently not allowed.