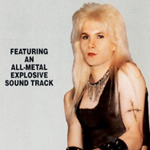 I'd like to end this not-as-rockin-as-I'd-hoped Slasher Search Rocks! mini-series with an extreme obscurity I never could've seen if not for the maniacs at Bleeding Skull! Video, who for some reason love shot-on-VHS movies. Though "never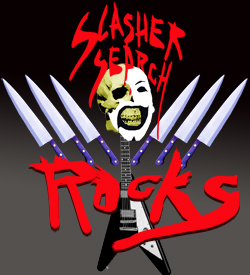 distributed properly on home video" (the director just sold it through ads in the back of heavy metal magazines), Bleeding Skull! gave HEAVY METAL MASSACRE (1989) a limited edition 250 copy, VHS only re-release in 2016.
This is the mostly-filler-about-a-killer story of an unnamed (as far as I noticed) loner who looks like he could be in Poison with his long, bleach blond, meticulously teased hair and studded bracelets and what not. He goes to one small brick wall bar where he picks up big-haired leather-jacket-wearing women. He sometimes uses the promise of cocaine, but very few words, and when he does talk it's more of a working joe kinda voice than I expected to come out from behind that makeup.
He brings them to his place, which is one small room full of posters, but it supposedly connects to a series of industrial hallways and garages where he takes them to handcuff them up and then hit them with a sledge hammer.
Despite the overall ickiness of it it's not very graphic at all – not much in the way of FX.
His living room has a collection of skeleton and motorcycle related posters, a couple decorative battle axes, and a swastika muscle shirt hanging on the wall from a plastic coat hanger. In a "real" movie we might take these as set decoration and character choices, but when it's very slowly and lovingly documented repeatedly in video toaster musical montage sequences, I think it's fair to assume that this is writer-director-star Bobbi Young showing off his personal collection. Likewise the many very long shots of him leaning against a collage wall or just posing in his outfit. It seems like it's probly Young's look at the time, that it takes alot of work and that he's very proud of it. He also has a woman compliment his "strong arms" and decide she wants to "make some use of that body." On the other hand, she calls his clothes and decorations weird and he recoils when she tries to touch his dick, so maybe it is a character and not vanity.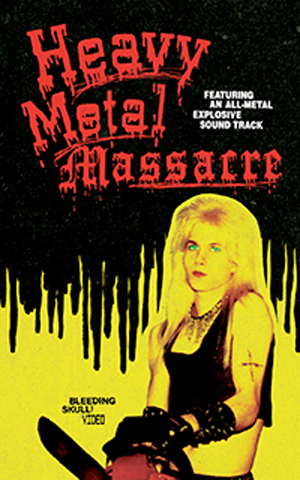 I'm not sure what this killer's problem with women is. He does kill one man, though – a macho guy who calls him gay for picking up the same girl he was hitting on. Unlike the others in this review series, these victims are never, as far as we're told, in a band. They just seem to be enthusiasts, judging from their style, and the soundtrack is pretty much wall-to-wall with some kind of hair metal or whatever. Also, this is really more of a serial killing than a massacre. So the title is somewhat misleading.
There's a part that's supposed to be showing the crime scene after one of his murders is discovered, and it's just the rock 'n roll playing over fuzzy red-tinted camcorder footage of police and firemen and stuff. I assumed this was similar to the guerrilla filmmaking in MULBERRY STREET, getting footage of the actors near some real incident going on so you can get the production value of ambulances and police cars and stuff. But it's worse, according to "The Search For Bobbi Young," an essay by my old friend Zack Carlson that's included in the tape. Apparently they called 911 claiming there had been a fatal accident and then recorded the first responders looking for a body! Unethical in my opinion.
The plot summary on the box claims that "the story takes a bizarre twist," but I didn't notice any kind of twist at all. He kills some people and then it ends. Basically there's a main character lady (Michele De Santis) and at the end she's going to leave the bar with the killer, so I guess you're supposed to think "Oh, shit, now she's going to die too! What an ironic turn of events!" and not "Here is the beginning of the third act, where our heroine will give the villain his comeuppance." It's one of those abrupt endings where you think "Wait, what? That's it?" and then "I mean, I'm glad, but…"
According to Zack's essay and a poster included in the tape, Bobbi Young had a band called Hot Blonde with a "kickin' debut single" called "End of the Night" backed with "Dirty Women." But the most interesting thing about Bobbi Young is that he's also David DeFalco, who would go on to direct CHAOS, challenge me to a wrestling match, and get Dave Bautista into movies. This was filmed in Rhode Island before he moved to L.A. and got into wrestling and bodybuilding. Here he's slim and lanky.
There are a couple of police detective characters who wear ties, sit in one office and talk about the murders. In one scene there's an old, chain-smoking coroner looking into a microscope. He reminded me enough of CHAOS's notorious DVD extra in the L.A. County Coroner's Office that I was hoping DeFalco was friends with a real coroner back in Rhode Island too. But probly not.
According to the essay (which "respectfully excised" his real name, but does confirm that he is the director of CHAOS), The Demon thinks the movie is shit and is embarrassed that he was "such a skinny fucking little glam geek back then." And I'm not saying he needs to be embarrassed, but it's understandable that having such a public document of a very specific and extreme phase in your youth could be hard. Still, he was willing to let them release the movie (with a very clear transfer from the 1″ master tape), so good for him. And unlike most of us he made his little movie and his band and then moved to L.A. and got muscles and became The Demon and made some comparatively professional movies and had feuds with Sage Stallone and me and Roger Ebert. I may regret saying anything nice about him if he ever ends up opening the doorway to true evil and plunging the world into eternal darkness or something, but I really do appreciate the unique path he's followed. And even though I agree with the ex-Bobbi Young about the quality of HEAVY METAL MASSACRE, I think it's interesting that it exists, which is more than I can say for some of the other heavy metal horrors I watched this year.



Special thanks to Joseph Ziemba and Tommy Swenson for getting me the liner notes