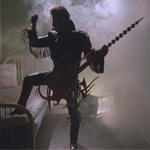 SLUMBER PARTY MASSACRE II is a kinda cool, kinda odd, but kinda boring variation on the simple part 1. It follows Courtney, one of the first film's survivors, but recast with Crystal Bernard (Wings). Her older sister Valerie is said to be in a sanitarium somewhere, just now beginning to speak again (after five years, if it's in real time). Courtney convinces her mom (Jennifer Rhodes, THE TOWERING INFERNO) to let her spend a weekend with her friends at one's dad's new condo. But don't tell Mom that boys will be there.
Much has been made of the first one being written and directed by women, and what that means in a slasher movie centered around a dude with a phallic drill murdering teenage girls in nighties. This one is written and directed by a different woman, Deborah Brock, and has a rare slasher movie occurrence of the female gaze in an opening dream sequence where Courtney pictures her crush Matt (Patrick Lowe, PRIMAL RAGE) shirtless, smiling, throwing a football, while she's in a non-revealing nightgown.
But I think when you're working for Roger Corman's Concorde Pictures there are marching orders you have to follow, so at the condo the girls end up taking their shirts off, dumping wine on each other, having a feathery slow motion pillow fight so unreal that two boys (Joel Hoffman [PUMPKINHEAD] and Scott Westmoreland) peeping in the window observe that "I didn't know girls really did this stuff."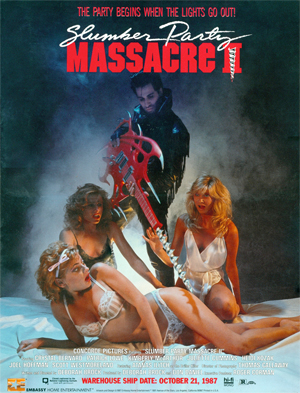 My favorite touch that I don't remember seeing in another horror movie: our heroines are in an all-girl pop rock band. Matt comes and watches them play in a garage with the door open – on purpose, unlike when The Bad Boys do it in HARD ROCK NIGHTMARE. Seems like a way to get in trouble with the neighbors, but Matt is able to just park in the driveway and enjoy a private performance, so it's cool for him.
I guess rock 'n roll is such a major element of Courtney's being that the Driller Killer who tormented her is reborn, first in dreams, then hallucinations, then reality, as some cheesy rockabilly asshole with an electric guitar that has a giant drill coming out of it. He's played by Atanas Ilitch, who was also in RAGIN' CAJUN and one TV movie.
At first it's all fun. The girls live their best lives by drinking wine, eating corndogs, Cheese Whiz and See's Candy. But Courtney keeps seeing things and getting freaked out, much to everyone else's confusion. Long before HALLOWEEN H20 – in the year HALLOWEEN H9 – this was a slasher sequel about a survivor from a previous movie dealing with trauma. Maybe influenced by the Freddy pictures she has gooey visions like her friend Sally (Heidi Kozak, SOCIETY) having a monster zit that erupts pus. And she's seeing this guitar guy but nobody believes her.
It gets more fun when he becomes real. He dances, lip-syncs rockabilly, says dumb music-inspired lines like "I can't get no satisfaction" as he puts holes in people, sending chunks of meat from the spinning drill bit, cutting off Matt's arm and cruelest of all throwing it on a birthday cake. At least leave the cake edible in case anyone gets away and needs something to comfort them afterwards.
The most impressive horror move is when he's attacking a girl and the others run into another room to try to call the police but he drills her up against a wall and it goes all the way through and comes out through the phone, destroying it. If intentional that guy really knows what he's doing.
I remember seeing this when it was recent and thinking it was a must-see for its audacious ridiculousness. By which I just mean the guitar-drill. I mean, look at that fuckin thing. It looks like it was forged by Nic Cage's character in MANDY.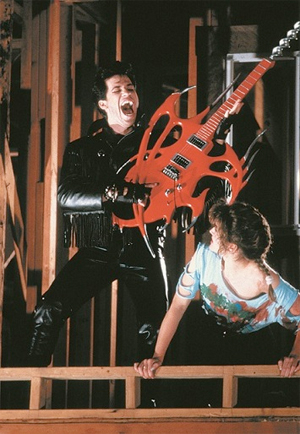 For me the movie doesn't hold up, but at least it's got its unique qualities. As surely as The Shape's pure evil cannot be explained, the Driller Killer coming back as a supernatural Andrew Dice Clay type with a weaponized guitar is a big ol' shrug of terror. I wonder why they didn't try it with Freddy or Leatherface after their remakes didn't pick up enough steam for a franchise?
This was Brock's debut both as a writer and as a director. She later directed four episodes of V.R. Troopers and three other movies, including ROCK 'N ROLL HIGH SCHOOL FOREVER, the sequel to the movie she has the girls dancing to in this. She was also a co-producer on HONEY I BLEW UP THE KID, ONE TOUGH BASTARD and BUFFALO '66.
Ilitch is a real musician, but not of the variety he portrays here. He released a pop album called Shadows the year before the movie.
He's the son of Mike Ilitch, who played on the Detroit Tigers in the '50s, retired due to a knee injury, founded Little Caesar's Pizza, became a billionaire, and in 1992 actually bought the Tigers from the founder of Domino's. (He also owned the Detroit Red Wings.) Rather than pursuing more acting, Atanas has at times run family companies including Olympia Entertainment, which manages the teams and a bunch of arenas and concert venues, and Olympia Development. He also fought bone cancer and started a recording studio and record label called Soup Can Music Co.
I found an old profile of him from I believe 1994, when he was "the 31-year-old vice president" who was "running a 3,000-employee sports and entertainment empire" and made Crain's Detroit Business's "40 Under 40" list. Asked his "biggest achievement" he said "I'd be nervous if my biggest achievement was realized at the age of 31." So I'm afraid he did not at that time consider playing Driller Killer #2 to be his biggest achievement.