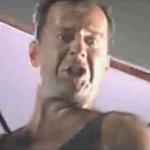 Check out my new Bruce essay on The Village Voice websight (web exclusive – they tried printing it on paper but my writing was so hot it caught on fire). This is basically my response to the anti-Bruce sentiments a few weeks ago when he was in the news for dropping EXPENDABLES 3 and a couple other incidents. Apparently this piece has turned out to be more of a bummer than I intended, and the headline does sound a little harsh. But really I'm just trying to illustrate how much of Bruce's power in DIE HARD comes from not being a standard action guy, and therefore it makes sense that he's grown restless with being pushed into the standard action guy slot. It's a celebration of his talents and unique place in action movie history.
This entry was posted on Wednesday, October 9th, 2013 at 12:38 am and is filed under
Blog Post (short for weblog)
,
Bruce
. You can follow any responses to this entry through the
RSS 2.0
feed. You can skip to the end and leave a response. Pinging is currently not allowed.