Episode 2.3: "Crossfire"
As the episode opens Seagal explains that one of their duties is to protect the public from "bad guys" who drink and get rowdy. Once again the Seagal Squad report to the scene of a truck shot full of holes, this time owned by white people for once. Around the corner there's another vehicle shot up, this one with two people inside, but they say they didn't see anything. Seagal gently narrates that they have a "street code" that prevents them from telling the cops anything. There's also a long shot of a stop sign, possibly a reference to the street code and smoke shop t-shirt phenomenon known as "stop snitching."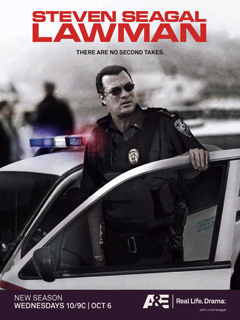 But I got a better theory. I think the shooter wasn't aiming for people at all, I think the vehicles were the targets. What I'm telling you is I think there's a vehicle serial killer loose in Jefferson Parish. I've seen CARS, I've seen CHRISTINE, I've watched KNIGHT RIDER, I've read about Google Cars. I know how this shit works. You never expect it's a car that's doing it. That's why it's the perfect crime. And of course those dudes aren't gonna say what they saw. Not only would they sound crazy, but the car might come back and run them over.
The next scene is yet another "somebody sees the cops and starts running" incident. After a short chase they catch the kid, who is 17 years old. When he says his age Seagal just starts laughing, he can't believe this shit, but at least he restrains himself from preaching about how he was in Asia studying the martial arts at that age. After searching for "a needle in a haystack" Seagal finds a gun hidden inside a barbecue. Without touching it he states that it's real and loaded.
I don't know if the barbecue got him thinking about what he was gonna have for dinner or something but next is one of those Mister Rogers type scenes where he goes to talk to a friend, a master chef at a Japanese restaurant. Seagal says that New Orleans is "alot more cosmopolitan than people think" and has good restaurants like this. This is a good scene because he gets to speak Japanese more than he does in any of his movies. He tells the chef that he was "raised in Japan" but that his friends are local cops and he wants to mess with them by serving them good food that will "give them the heebie jeebies and the willie jillies." You know how cops are always playing pranks. You've seen all the POLICE ADADEMYs.
In the first season reviews I had some complaints about how numbing it starts to get when you watch scene after scene of cops questioning young black men. In this episode they get lucky and get to switch it up. First they talk to some black kids who are just going to the gym to play basketball. "Good boys," Seagal calls them. Then they get called to the scene of a historic shooting. Not historic in the way that, say, John Wilkes Booth shooting Abraham Lincoln was, but in the sense that this is the first ever episode of LAWMAN where a white guy shot another white guy.
This is some crazy shit, a fat old white dude shot in the chest by a guy with a long white beard and a 2-shot derringer. Turns out the victim's grown daughter met the victim at the store and brought him home, but he was drunk and started smacking her around and calling her a bitch. When her dad tried to stop the guy he wasn't getting anywhere, he got scared and had to shoot him. There's a shot of a crucifix on the wall to represent the shooter's morals and compassion. Instead of getting macho about justifiably defending his own daughter from an attack on his own property he just seems really sad and says "I hope I didn't hurt him too bad."
They let him go, no charges. But I think he should probly have a talk with his daughter about bringing home fat old drunks when she goes to the store. Just come home with the groceries next time, all right honey? The gun only fires two shots.
The episode ends with Seagal's get together at the Horinoya Sushi Bar. Seagal gets a kick out of pressuring his cop buddies into following Japanese customs. They have to sit down on the floor to eat and they're not flexible enough to do it easily. Everybody sort of goes with the program except Lawrence, who wants a fork instead of chopsticks and won't eat most of the stuff. Of the live lobster he says, "I didn't care for it much 'cause it was still moving." Seagal pretends to be surprised and offended but does get most of them to eat what he claims is "sea urchin gonads."
"I ate gonads!" Alex says.
Episode 2.4: "The Perfect Target"
On a Tuesday afternoon in traffic Seagal notices a guy waving a gun around inside a car. It turns out to be another all white incident: two nerdy white twentysomethings. The passenger was the one with the gun but the driver is the one who starts flipping out like he's on something. His friend tries to calm him down by telling him that's Steven Seagal. "I don't care if it's Steven Seagal or the fuckin mayor!" the driver yells. He keeps yelling that his career is ruined and they ruined his life and he should just jump off the bridge. Lawrence says "You're actin a jackass up here." Larry handcuffs the guy supposedly to prevent him from jumping off the bridge, but I think more likely because the guy's being a dick.
Larry is really funny in this scene, explaining that if he was concerned about getting pulled over he shouldn't have been driving a bright yellow car 95 miles an hour past a cop car while his friend waves a gun around. Because he crossed the bridge into NOPD territory they're gonna hand them over to the other department, "And I only hope that they're as patient and tolerant as we are," an exasperated Larry deadpans.
Luckily the dude with the gun wasn't trying to shoot anybody, he was just actin a jackass up there. But even reserve deputy sheriffs need to be ready to shoot, and Seagal says "shooting is a perishable skill," so he brings the boys to the range with him while he practices for an upcoming test. From what they show the officers seem to do pretty well, while Seagal does great. One exercise involves shooting at a photo of a Bad Guy holding a hostage. Alex (or was it Larry? it's not in my notes, sorry) hits the Bad Guy a couple times but also hits the hostage. "My investigation revealed she was in on it," he says.
Friday at midnight the patrol is very uneventful and lonely until Seagal spots a vehicle behind some abandoned houses. Turns out to be a guy taking plywood from businesses that were shut down after Katrina, and he has a warrant on him for doing this before. Seagal says he feels sorry for him and wishes him luck finding a job, but feels he has to enforce this. He and John later talk about stopping looters on a case by case basis. If the guy was starving and stealing food they probly would've let him go. But come on dude, don't steal plywood.
By the way, they arrested an Asian guy! Season 2 is all about diversity.
The final call of the day is for a guy that got shot in the leg, but the bullet's not in him. "Fo sho in'n out" Seagal notes. The victim apparently doesn't subscribe to the street code, because he's perfectly willing to describe the guys that did it. But the Squad seem less interested in the shooter than in looking at all the bullet holes. Holy shit, they shot that many times and only hit the guy once? Shooting really is a perishable skill. I mean, it's a good thing nobody was hurt too bad, but whatever happened to pride in a job well done? Does Seagal need to start taking some of these Bad Guys to the range for practice? "I guess they weren't aiming," he says.
Later Seagal does his test and unless the show is completely full of shit he did incredibly, with a rare 120 out of 120 score. I think it was Larry, maybe Alex that said "I've been a police officer for 17 years and never before have I seen anybody make a group like that."
"My score wasn't bad," Seagal says with obviously fake humbleness, and autographs the target "to my buddy." Hopefully that will be framed and on display so the Jefferson Parish street thugs and/or living cars can have something to aspire to.
This entry was posted on Wednesday, October 20th, 2010 at 1:00 pm and is filed under
Crime
,
Documentary
,
Reviews
,
Seagal
. You can follow any responses to this entry through the
RSS 2.0
feed. You can skip to the end and leave a response. Pinging is currently not allowed.