THE HILLS RUN RED probly isn't a new classic, but I think it's a solid DTV horror and a good take on the "meta-slasher" sub-subgenre that includes SCREAM and my unfavorite BEHIND THE MASK: THE RISE OF etc. etc. This is another one about people making a documentary, but thank the Lord Christ it's not presented as a documentary. Tyler (Tad Hilgenbrink, some guy from DISASTER MOVIE) is a film school nerd obsessed with a 1982 slasher movie called THE HILLS RUN RED (wait a minute… that's what this movie is called! what on earth is going on here?). It was supposedly so horrifying it was pulled from release. The director and all prints of the movie have been missing for over 20 years.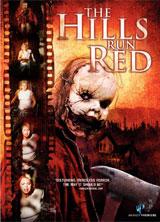 So this nerd is working on a documentary about the movie. He tracks down the missing director's daughter Alexa (Sophia Monk, who in some scenes looks eerily like a young Charlize Theron) and along with his girlfriend and best friend (who he doesn't know are fucking each other) they take a trip to the original filming locations and interview locals about the legends they heard, like that they used real blood from a slaughterhouse in the movie. Meanwhile, somebody seems to be stalking them dressed as the movie's killer "Babyface" (not to be confused with Kenneth "Babyface" Edmonds, the singer and writer/producer for Bobby Brown, Paula Abdul and TLC. Or at least if it is supposed to be the same guy it's not made clear enough in my opinion).
And things escalate from there. It pulls the carpet out from under the knowitall horror geeks by showing that some parts of the movie-within-the-movie are more real than they thought, and that some of what they think they know about the behind-the-scenes is bullshit. Everything they know comes into question, and they have to sort through what's real, what's legend, what's screenplay. And this is one case where knowing everything could save their lives. It's not just IMDb trivia anymore.
William Sadler makes a special appearance as the missing director. Things don't end happily (SPOILER). I think this might be the first movie from the Dark Castle production company that I liked. It's also released by the Warner Premiere label, which gives me more faith in DTV horror. This is definitely better than many theatrically released horror movies of the past several years.
Not everything feels right. Tyler doesn't really come off as an authentic horror buff to me, despite his cool movie poster collection. It's also laughable when he tries to be tough, like in the absurd sequence where he ties Alexa to her bed and helps her kick heroin and coke through the course of a single montage. Even the name of the director seems kind of forced: Wilson Wyler Concannon. I don't know why that bugs me, but how bout something that sounds good? Yeah, I know, William Wyler, I get it. Whatever dude. Do better next time. Also, don't name the kid's best friend after Lalo Schifrin. It's too distracting.
But overall this is an enjoyable movie with an understanding of slasher cliches and how to tweak them. It points some of them out and then violates them. For example, in this slasher movie people do try to protect themselves with guns (and slashers use them too). The car engines work and the cell phones don't lose reception. Unlike most modern horror there are lots of boobs shown, and sex and drugs don't seem to relate to who dies and who doesn't. There's a play on different horror cycles, with an older killer interested in slashing and a younger one more into "torture porn."
Hell, they even use that limited-perspective-scare trick we were talking about in the [REC] comments. Tyler is taping at a camp site at night and he has headphones on. He notices he can hear rustling in the woods, because the mic is picking it up. So he points the camera into the woods, and through it you can't see anything but you can hear something. Probly not half as scary as [REC] for those of you who liked that one, but it got me a little. Since the movie only very briefly uses documentary style maybe this is closer to the great use of blurry helmetcam footage in ALIENS than to [REC]. But we could also read it as a nod to that type of modern horror.
These aren't really in-jokes, because it's not jokey, and they're not exactly references, because they don't point to specific movies. They are meta though, because they're referring to the traditions and cliches of the genre. But the reason it works is becasue the meta shit is just a bonus, not the main content. I think Babyface (again, not necessarily the same guy who wrote Boyz II Men's "I'll Make Love To You") is the best of the new batch of wannabe Jasons. According to the movie within the movie he's an inbred who sliced off his own face as a kid and sewed on a doll face. Now he's grown that way so he looks kind of like the doll from DEEP RED but with an exposed lower jaw. It's a creepy look and there's a cool little surprise with the character that works as a shock and leaves you with some questions, in a good way.
The director, Dave Parker, did that movie THE DEAD HATE THE LIVING!, which makes me more curious about that one. The writers were John Carchietta (LATE FEE – see below) and John Dombrow, re-written by David J. Schow (THE CROW, TEXAS CHAINSAW 3 and remake prequel).
There's so many low budget horror movies coming out these days it's hard to really know which ones are worth trying out. I was curious about this one after reading about it in Fangoria, but those things don't always turn out so well. Other new ones I sampled recently were WRONG TURN 3 (mildly amusing) and LATE FEE (clever idea for structure, otherwise horrible, had to fast forward through parts). But Drew McWeeny wrote some nice things about this one and I don't remember him freaking out about HATCHET or LESLIE VERNON so I gave it a shot, and I'm glad I did. Let me know what you guys think if you rent it.