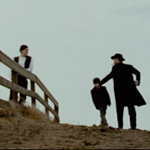 I saw KILLING THEM SOFTLY today and I'm working on the review right now, and that made me realize that when I finally caught up with the director's previous movie earlier in the year I didn't ever post a review of it. But it turns out I did write some stuff in my notebook, so I dug that up and I don't mean to brag but I am a pretty good typist so here is a quickie review for you, friends.
THE ASSASSINATION OF JESSE JAMES BY THE COWARD ROBERT FORD has gotta be the longest title to a movie that I've ever reviewed. What's that, 17 syllables? THE BAD LIEUTENANT: PORT OF CALL NEW ORLEANS is only 11, LEGEND OF THE GUARDIANS: THE OWLS OF GAHOOLE is 12 or 13 (depending on your pronunciation of "owls"), and both of those have colons I think, so that softens the blow. This has no colons. This title is amazing.
(read the rest of this shit…)
VERN has been reviewing movies since 1999 and is the author of the books SEAGALOGY: A STUDY OF THE ASS-KICKING FILMS OF STEVEN SEAGAL, YIPPEE KI-YAY MOVIEGOER!: WRITINGS ON BRUCE WILLIS, BADASS CINEMA AND OTHER IMPORTANT TOPICS and NIKETOWN: A NOVEL. His horror-action novel WORM ON A HOOK will arrive later this year.