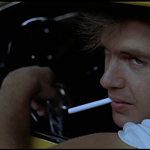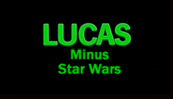 I honestly had never seen this movie until now. So this will likely be the last George Lucas directed movie for me, unless he ever goes through with making those inaccessible art movies he always says he wants to make. AMERICAN GRAFFITI is different from the other ones he directed  because it's the only one that's not in space or in a futuristic dystopian worker colony under the earth. At least as far as is revealed in the text. Also it's his only directorial work that has, like, wall-to-wall jams by Frankie Lymon and the Teenagers and The Platters and people like that. Maybe he shoulda done that trick on ATTACK OF THE CLONES to make the young love go down easier.
Yeah, it's weird that this is a really distinctive, personal and hugely influential film that was Lucas's big breakthrough in Hollywood, and then he never did anything much like it again. He just let other people make Happy Days and shit while he was tinkering in the FX lab.
I'm not sure what the title means exactly, but it's kinda too bad they used it for this because it would've made WILD STYLE seem more epic and important. This is the story of a bunch of Los Angelenos Modestenos graduating high school in 1962, and having one last night out together before some of them leave to begin their adult lives. Curt (Richard Dreyfuss playing a teenager just two years before JAWS!) is supposed to leave for college on the East Coast the next day, but he's getting cold feet. Steve (Ronny Howard, later star of Happy Days) is also leaving and wants to convince his younger girlfriend Laurie (Cindy Williams, later star of Happy Days spin-off Laverne & Shirley) that they should still technically be together but also see other people. Terry (Charles Martin Smith, later in THE BUDDY HOLLY STORY) is a huge nerd who borrows Steve's awesome car to drive around and impress people. And John Milner (Paul Le Mat) isn't going to college, so to him it's another night as the tough guy cruising for girls in the area's most badass yellow drag racer. But then he gets tricked into picking up somebody's little sister Carol (Mackenzie Phillips), cramping his style. (read the rest of this shit…)
VERN has a new action-horror novel out called WORM ON A HOOK! He has been reviewing movies since 1999 and is the author of the film criticism books Seagalogy: A Study of the Ass-Kicking Films of Steven Seagal and Yippee Ki-Yay Moviegoer!: Writings on Bruce Willis, Badass Cinema and Other Important Topics as well as the crime novel Niketown.