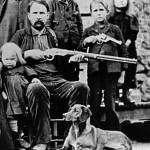 For serious movie watching individuals like you or me, movies start to be like a drug after a while. You know how potheads and acidheads are always experimenting with their drugs? Dude, I wonder what the produce department is like on acid. Dude, I wonder what Disneyland is like on acid. Dude, I wonder what Knott's Berry Farm is like on acid. Dude, I wonder what Police Academy 2 is like on acid.
Well you and I, we're walking the clean path. But we're kind of the same way with movies. Depending on the movie you want it to be a different situation – sit in a different part of a theater, see it with friends or alone, see it with a big crowd or early in the morning so there's nobody there. If it's a sequel, do you rewatch the original first or keep it distant in your mind? I had to make these type of decisions for THE GRUDGE because it's a remake of this japanese horror movie I've been meaning to see for a while. Nobody probaly remembers this but I was the first one to review RINGU and RINGU 2 over there on The Ain't It Cool News and the first one to report it was being remade as THE RING. And then I reviewed that remake too when they made it. (read the rest of this shit…)
VERN has a new action-horror novel out called WORM ON A HOOK! He has been reviewing movies since 1999 and is the author of the film criticism books Seagalogy: A Study of the Ass-Kicking Films of Steven Seagal and Yippee Ki-Yay Moviegoer!: Writings on Bruce Willis, Badass Cinema and Other Important Topics as well as the crime novel Niketown.