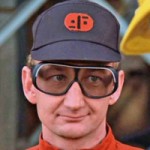 Hi, everyone. "Moriarty" here with some Rumblings From The Lab…
The always-brilliant Vern is back to show us how it's done with his review today of 2001 MANIACS:
What's up fellas,
You guys have been covering this '2001 MANIACS' movie for what seems like years. Well, it seems that way because it is that way. Quint reviewed the script before Bush was even in the White House. Then you kept talking about it while it was being made and a while back I believe Moriarty personally presented a screening of it and you guys posted a bunch of reviews from the screening. That's already more than enough coverage for a movie like this. But now that it's found its rightful home in Direct to Video Land, it falls into my jurisdiction. I make the rules here. King Kong ain't got shit on me, etc. etc. Anyway here's my take in case anybody gives a shit. (Not likely.) (read the rest of this shit…)
VERN has been reviewing movies since 1999 and is the author of the books SEAGALOGY: A STUDY OF THE ASS-KICKING FILMS OF STEVEN SEAGAL, YIPPEE KI-YAY MOVIEGOER!: WRITINGS ON BRUCE WILLIS, BADASS CINEMA AND OTHER IMPORTANT TOPICS and NIKETOWN: A NOVEL. His horror-action novel WORM ON A HOOK will arrive later this year.