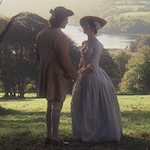 BARRY LYNDON is not the type of movie people recommend to me all the time, but it is the kind of movie that most people who have spent as long as me trying to be up on the good movies have, like, bothered to see at some point. Because it is widely known that that Stanley Kubrick usually did a pretty good job of the movies. Yet I managed to go several decades not seeing it. I guess there's no way to be suspenseful about this – you've probly done the math and figured out that since this is a review of BARRY LYNDON by me that means I've finally seen BARRY LYNDON. An exciting day. I get to go over to the Homicide: Life On the Street dry-erase board and change the letters from red to black.
Ryan O'Neal (THE DRIVER) stars as Redmond Barry, horny Irish ne'er-do-well who has to leave home and have adventures because he thinks he killed an English officer in a duel. I'm not clear how old he's supposed to be in the early scenes, but it's funny that they keep referring to mid-'30s, manlier-than-everyone-around-him O'Neal as a "boy." Maybe they should've made him sit in oversized furniture like Martin Short in CLIFFORD.
VERN has a new action-horror novel out called WORM ON A HOOK! He has been reviewing movies since 1999 and is the author of the film criticism books Seagalogy: A Study of the Ass-Kicking Films of Steven Seagal and Yippee Ki-Yay Moviegoer!: Writings on Bruce Willis, Badass Cinema and Other Important Topics as well as the crime novel Niketown.