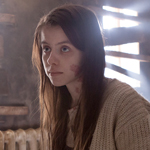 (Warning: this movie is about disturbing shit, and I'm going to describe what it's about)
THE SEASONING HOUSE is a very dark thriller from the UK circa 2012. How very dark? Well, it takes place in "BALKANS, 1996" and it's about a mute girl whose family got killed in front of her and she's forced to work in a brothel for war criminals. Not as a prostitute – the boss thinks the birthmark on her face makes her wrong for that, so she's sort of like his assistant. Her job is to go around to the poor girls tied to beds, shoot them up and fingerpaint makeup on them.
It's fucked up, man! And the light at the end of the tunnel that caused me to give this one a shot is the promise of "brutal revenge" on the box. Revenge is never righteous, but in movies I tend to enjoy it, despite not liking the muck you have to get through in order to make the comeuppance seem deserved. (read the rest of this shit…)
VERN has been reviewing movies since 1999 and is the author of the books SEAGALOGY: A STUDY OF THE ASS-KICKING FILMS OF STEVEN SEAGAL, YIPPEE KI-YAY MOVIEGOER!: WRITINGS ON BRUCE WILLIS, BADASS CINEMA AND OTHER IMPORTANT TOPICS and NIKETOWN: A NOVEL. His horror-action novel WORM ON A HOOK will arrive later this year.