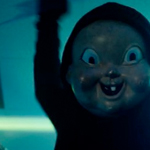 HAPPY DEATH DAY is a nice little high concept horror movie. 90 minutes, fast paced, upbeat. When I first saw the teaser I thought "I can't believe nobody's thought to do that before!" and sure enough these people did it ably.
See, it's GROUNDHOG DAY meets a slasher movie (specifically SCREAM 2 I would say). Oddly named sorority girl Tree (Jessica Rothe, LA LA LAND) wakes up hung over on her birthday in the dorm room of some geek she barely knows. She shame-walks out of there in her shoulderless sequin blouse, squinting at the bright sun, and goes through a busy day (rushed changing of clothes, late for class, awkward run-ins with guys, sorority meeting, avoiding her dad, attempted tryst with a teacher) before being stabbed to death by an unknown person in a baby mask (weird school mascot, good slasher mask). And then she wakes up in that dorm again, on her birthday again. So she has to keep re-living this day, but also solve her own murder so that maybe she can see tomorrow. (read the rest of this shit…)
VERN has been reviewing movies since 1999 and is the author of the books SEAGALOGY: A STUDY OF THE ASS-KICKING FILMS OF STEVEN SEAGAL, YIPPEE KI-YAY MOVIEGOER!: WRITINGS ON BRUCE WILLIS, BADASS CINEMA AND OTHER IMPORTANT TOPICS and NIKETOWN: A NOVEL. His horror-action novel WORM ON A HOOK will arrive later this year.