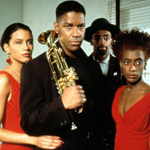 After DO THE RIGHT THING made Spike Lee into a major cultural force, he set his sights on a few subjects he thought were important. Before he made his MALCOLM X movie with Denzel, and before he didn't make his Jackie Robinson movie with Denzel, he tackled a broader topic: a jazz movie with Denzel.
It was a subject near and dear to Lee's heart. His father Bill Lee was a jazz bassist and composer for his first four films (this being the last), and he'd befriended Branford Marsalis on DO THE RIGHT THING, so The Branford Marsalis Quartet (plus Terence Blanchard on trumpet) plays the music here. I seem to remember Lee being publicly hostile toward Bertrand Tavernier's ROUND MIDNIGHT and Clint Eastwood's BIRD for focusing too much on drug addiction, a complaint possibly aggravated by his annoyance at reporters asking him why DO THE RIGHT THING didn't deal with drug addiction.
Can you imagine? "Wes Anderson, don't you have a responsibility to your community to show that rich people use coke?" "Makers of SWEET HOME ALABAMA, where is the meth?" Fuck you. Just for the sake of my blood pressure I'm gonna assume every reporter who asked that has since sent Spike flowers and a card with a long, heartfelt, handwritten letter of apology.
Surprisingly, Lee's jazz movie just replaces heroin with other vices. Washington's quintet-leading trumpeter Bleek Gilliam is some kind of womanizer who tries to have two girlfriends at the same time, med student Indigo Downes (Joie Lee) and aspiring singer Clarke Betancourt (Cynda Williams in her first role). His childhood friend/terrible manager Giant (Spike himself) has a dangerous addiction to sports gambling and is in debt to his bookie (Ruben Blades, SECUESTRO EXPRESS, COLOR OF NIGHT). But these troubles are kind of woven into a casual and down to earth story about Bleek's fairly minor struggles doing shows at the Beneath the Underdog jazz club, during a slow-brewing musical and love rivalry with his saxophone player Shadow Henderson (Wesley God Damn Snipes, BLADE). (read the rest of this shit…)
VERN has a new action-horror novel out called WORM ON A HOOK! He has been reviewing movies since 1999 and is the author of the film criticism books Seagalogy: A Study of the Ass-Kicking Films of Steven Seagal and Yippee Ki-Yay Moviegoer!: Writings on Bruce Willis, Badass Cinema and Other Important Topics as well as the crime novel Niketown.