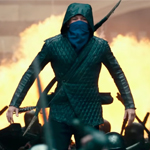 ROBIN HOOD (2018) was part 2 in my "have to be out of the apartment during certain hours but THE GIRL IN THE SPIDER'S WEB starts too late" programming series. I probly shoulda just seen CREED II again, but you know how it is. Sometimes you want to see ROBIN HOOD.
Taron Egerton (LEGEND) plays Sir Robin of Loxley, a reverse Kingsman raised as a "spoiled toff," he later fights with the commoners against the government, without his fancy clothes. The movie opens with a narrator bragging about how this is not the "bed time story" you know, and it kinda plays as a super hero origin story (in fact it was originally announced as ROBIN HOOD: ORIGINS). It's a Robin Hood trained by his mentor John (Jamie Foxx [STEALTH]), a Muslim P.O.W. who, in an act of defiance, he freed during the Crusades, even though the dude had almost killed him. Through some decent training montages (sadly lacking in Stan Bush songs) he gets even better at shooting off a whole bunch of arrows real fast, including when whirling through the air in slow motion. Which I am in favor of. Much of the action (which includes exploding carriages and what not) is shot a little shaky to remind you of that not-a-bed-time-story thing, but luckily they can't resist the occasional slow motion leap or rope swing. (read the rest of this shit…)
VERN has a new action-horror novel out called WORM ON A HOOK! He has been reviewing movies since 1999 and is the author of the film criticism books Seagalogy: A Study of the Ass-Kicking Films of Steven Seagal and Yippee Ki-Yay Moviegoer!: Writings on Bruce Willis, Badass Cinema and Other Important Topics as well as the crime novel Niketown.