First off I would like to offer up my sincerest apologies, condolences and what not for the tarditude of this particular column, which is one day late (it usually comes out early Monday, thanks for paying attention motherfucker). But I think when you find out what I have been cookin up for you you will understand why it was necessary and WELL fucking worth the wait.
You see we here at Vern Tell's It Like It Is, and by that I mean me, have been working very hard to bring to you an exclusive, a review of a movie that almost none of the other film Writers have been able to cover. It took a lot of work to find this movie and I hope you will give a motherfucker credit for going out of his way for the art of Cinema. What you are about to read about is a small independent picture which deals with issues that are very important to me. It is a picture called Three Strikes.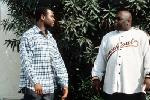 What this is is a low budget "hood" comedy starring Brian Hooks and a bunch of other motherfuckers you never seen or heard of before. It is written plus directed by a dude called D.J. Pooh which, good god I feel sorry for a man with a name like that, imagine what the kids said about him when he was growing up. You don't even have to come up with something that rhymes with "pooh," the joke is already written.
Now the reason this movie has not been covered before today has to do with a little thing called "critics are a bunch of fucking pussies." As you probaly know, critics have an arrangement with the publicists so that they can get passes to see movies for free before they come out. This is convenient because they can publish the review the day the movie comes out, and they don't have to waste their piddly salary seeing Runaway Bride and what not. (read the rest of this shit…)
VERN has been reviewing movies since 1999 and is the author of the books SEAGALOGY: A STUDY OF THE ASS-KICKING FILMS OF STEVEN SEAGAL, YIPPEE KI-YAY MOVIEGOER!: WRITINGS ON BRUCE WILLIS, BADASS CINEMA AND OTHER IMPORTANT TOPICS and NIKETOWN: A NOVEL. His horror-action novel WORM ON A HOOK will arrive later this year.