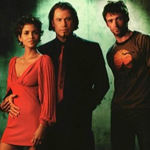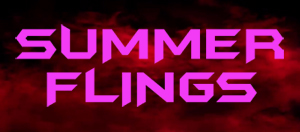 June 8, 2001
These next two Summer Flings will not be wannabe tentpole Happy Meal type movies with action figures, but adult-aimed studio action thrillers that arrived with a thud. SWORDFISH was heavily hyped as the movie where Halle Berry (THE CALL), not long before winning her Oscar for MONSTER'S BALL, appeared topless. But the star is her fellow X-Man Hugh Jackman (THE MISERABLES), suddenly a leading man after the world fell in love with his Wolverine in 2000. He plays Stanley Jobson, legendary hacker who is no longer allowed to touch a computer or visit his daughter Holly (Camryn Grimes, MAGIC MIKE). He's leaner than we're used to him now, with an earring and spiky, slightly frosted hair, like an early Tom Jane character. Unlike in REAL STEEL, where he reluctantly formed a relationship with his estranged son, this guy will do anything to get his kid back.
Though an ex-con, Stanley is 100% good guy. We find out, of course, that his big crime was a hacktivism/whistleblower type thing where he planted a virus in an intrusive FBI spying program. (In my opinion Julian Assange and Edward Snowden both fantasize about being Stanley Jobson and this movie is their SCARFACE.) He's trying to be a good boy now, and is introduced wearing only a towel and hitting golf balls off of his trailer in an oil field in Midland, Texas. A mysterious stranger named Ginger (Berry) shows up knowing everything about him and sexily harasses him into flying to L.A. to meet her boss, Gabriel Shear (John Travolta, BROKEN ARROW). (read the rest of this shit…)
VERN has been reviewing movies since 1999 and is the author of the books SEAGALOGY: A STUDY OF THE ASS-KICKING FILMS OF STEVEN SEAGAL, YIPPEE KI-YAY MOVIEGOER!: WRITINGS ON BRUCE WILLIS, BADASS CINEMA AND OTHER IMPORTANT TOPICS and NIKETOWN: A NOVEL. His horror-action novel WORM ON A HOOK will arrive later this year.