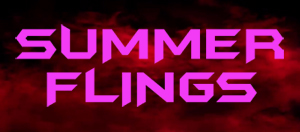 It was kinda risky to do a whole series of unpopular or forgotten summer movies, because I could very well have been forcing myself to watch an all star lineup of all the suckiest failures from across a couple decades. A dirty dozen of squirming and boredom. Luckily, many of the movies I chose have been better than their reputations, or even misunderstood gems, and when they're not it's still kind of nice, because I'm seeing them from a better position than the people who saw them their respective summers. I don't go in with high expectations. I don't hope for the next great summer movie. Just maybe something that's more interesting than people said at the time.
In this case I also knew not to hope for an M. Night Shyamalan comeback after THE VILLAGE, LADY IN THE WATER and THE HAPPENING, or a good live action version of the popular cartoon Avatar: The Last Airbender, which I haven't seen anyway. Knowing nothing about the cartoon I was able to appreciate the cool concepts they borrowed from it without knowing they apparently did it all wrong. So I have a higher chance of being pleasantly surprised and a lower chance of feeling like I didn't get my money's worth. (read the rest of this shit…)
VERN has a new action-horror novel out called WORM ON A HOOK! He has been reviewing movies since 1999 and is the author of the film criticism books Seagalogy: A Study of the Ass-Kicking Films of Steven Seagal and Yippee Ki-Yay Moviegoer!: Writings on Bruce Willis, Badass Cinema and Other Important Topics as well as the crime novel Niketown.