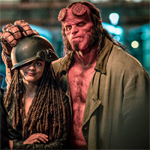 I'm not gonna totally contradict the conventional wisdom that HELLBOY (2019) is bad. I kinda thought it was bad for a while. But then it sort of won me over. I had more fun than expected, and talking about it with other people made me realize that yeah, overall I think I liked it.
Yes, it's sloppy and choppy and takes itself less seriously than I'd like. I wasn't surprised to read that there were tensions with the producers and that director Neil Marshall (THE DESCENT, but also DOOMSDAY) didn't have final cut. The many rock 'n roll needledrops (including a Spanish version of "Rock You Like a Hurricane") and electric guitars on the score by Benjamin Wallfisch (IT, SERENITY) make it seem like it's making a joke out of folk tale stuff that I think would be much cooler if treated respectfully, and the combination of a lower budget and higher volume of digital FX than Guillermo Del Toro's two movies make it look chintzy by comparison. But there are tons of cool monsters, funny lines, colorful bits of mythology, and a splattery, lowbrow rowdiness that's pretty fun whether or not it's in the Hellboy spirit. (read the rest of this shit…)
VERN has a new action-horror novel out called WORM ON A HOOK! He has been reviewing movies since 1999 and is the author of the film criticism books Seagalogy: A Study of the Ass-Kicking Films of Steven Seagal and Yippee Ki-Yay Moviegoer!: Writings on Bruce Willis, Badass Cinema and Other Important Topics as well as the crime novel Niketown.