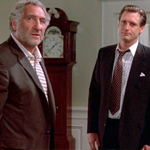 When Roland Emmerich's INDEPENDENCE DAY: RESURGENCE landed (get it, like a space ship [although I guess technically these ones never land, so forget it, I retract that pun]) in theaters 20 years after the first one was a smash hit in the summer of '96, people were asking if the first one held up. Trick question! It was never good. If there's any way it's a classic it's as a classic example of a summer blockbuster that's a huge hit, but unworthy to join RAIDERS OF THE LOST ARK, TERMINATOR 2, etc. in the pantheon.
Let me put it this way: It's a movie made by people who thought five syllables was too unwieldy for a title, but two was too small, and therefore it should be referred to by the half-sensical abbreviation "ID4." That's not normal people thinking. That's pure Emmerich. And I think it's fair to say that only Emmerich (with his then writing/producing partner Dean Devlin, an actor from MOON 44) could've, or at least would've, made this movie. (read the rest of this shit…)
VERN has a new action-horror novel out called WORM ON A HOOK! He has been reviewing movies since 1999 and is the author of the film criticism books Seagalogy: A Study of the Ass-Kicking Films of Steven Seagal and Yippee Ki-Yay Moviegoer!: Writings on Bruce Willis, Badass Cinema and Other Important Topics as well as the crime novel Niketown.