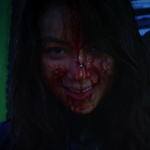 THE VILLAINESS is LA FEMME NIKITA with a little KILL BILL by way of South Korean cinema. A young woman with a troubled past has her identity erased, is trained to kill for the government, put undercover, given a mission, trying to earn her freedom. But she was already pretty damn good at killing before the feds got involved. They capture and recruit her after an incredible opening massacre, done in her POV – it's first person shooter/slasher/stabber/kicker-through-window – until she sees herself in a mirror, then gets her head smashed into it and the perspective separates from her body, rotating around her as she continues to fight, mostly using gym equipment (the jump rope is my favorite) as weapons.
As her captivity, training and missions are depicted in somewhat elliptical fashion, the events leading up to that rampage also come out piece-by-puzzle-piece in flashbacks, not even in chronological order within themselves, and with some characters played by different actors in different periods. I find the story at times confusing and overcomplicated, but still compelling. Even if I didn't, I'd still call THE VILLAINESS a must-see for the most audacious, envelope-pushing action filmatism I've seen in quite a while. (read the rest of this shit…)
VERN has a new action-horror novel out called WORM ON A HOOK! He has been reviewing movies since 1999 and is the author of the film criticism books Seagalogy: A Study of the Ass-Kicking Films of Steven Seagal and Yippee Ki-Yay Moviegoer!: Writings on Bruce Willis, Badass Cinema and Other Important Topics as well as the crime novel Niketown.