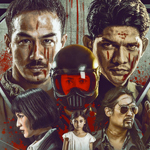 THE NIGHT COMES FOR US is another outstanding gauntlet of gory martial arts violence and honor among killers from Timo Tjahjanto, writer-director of the excellent HEADSHOT. Once again the action is choreographed by Iko Uwais (star of THE RAID), and he's in it and he's great, but Joe Taslim gets to play the lead this time. Taslim played Jaka in THE RAID and was also in the best FAST & FURIOUS movie (FURIOUS 6) but he doesn't seem to get noticed like Iko and Yayan. Or at least he didn't get to be eaten by a monster in THE FORCE AWAKENS with them. So every time I read his name I think of it to the tune of this:
Taslim's character Ito is one of the "Six Seas," elite enforcers for the Triads who from the sounds of it are kinda like the Seal Team Six of international crime. For his job he has to be ridiculously skilled and completely heartless, but one day during a routine massacre-of-entire-village he doesn't feel like killing the last survivor, a little girl named Reina (Asha Kenyeri Bermudez). Instead he guns down his own team and takes off to hide the kid in Jakarta. And sure, this doesn't erase all the people he's killed in his three years on the job, but it's like when the Grinch's heart grows at the end of his story. Let's give the man credit for changing. (read the rest of this shit…)
VERN has a new action-horror novel out called WORM ON A HOOK! He has been reviewing movies since 1999 and is the author of the film criticism books Seagalogy: A Study of the Ass-Kicking Films of Steven Seagal and Yippee Ki-Yay Moviegoer!: Writings on Bruce Willis, Badass Cinema and Other Important Topics as well as the crime novel Niketown.