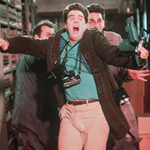 GHOSTBUSTERS (1984) is the story of three male scientists – Dan Aykroyd, Harold Ramis and Bill Murray – who live and work in New York City and specialize in studying the supernatural. They lose their grant at the college just because the uptight higher ups notice that they are bringing great shame and humiliation upon the institution by wasting everyone's time and money on an area of study that is not real. And that's without even knowing that Murray (WILD THINGS) doesn't totally believe in it and spends his days doing fake telepathy tests just to hit on women.
So they decide to lease a beat up old fire station and start a scrappy new business that treats exorcism like pest control and advertises on TV and what not. Lucky for them they are correct, it turns out ghosts are real and there are a couple actual hauntings going on in the city. A female client (Sigourney Weaver, ABDUCTION) comes to their male offices with a huge case: her refrigerator is a portal to a ghost dimension or some shit and she and her neighbor (Rick Moranis, STREETS OF FIRE) get possessed and an ancient Sumerian god named Gozer (Slavitz Jovan, KNIGHT OF CUPS) appears on top of the building and they have to shoot lasers at it, etc. (read the rest of this shit…)
VERN has been reviewing movies since 1999 and is the author of the books SEAGALOGY: A STUDY OF THE ASS-KICKING FILMS OF STEVEN SEAGAL, YIPPEE KI-YAY MOVIEGOER!: WRITINGS ON BRUCE WILLIS, BADASS CINEMA AND OTHER IMPORTANT TOPICS and NIKETOWN: A NOVEL. His horror-action novel WORM ON A HOOK will arrive later this year.