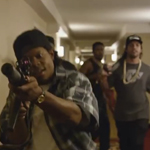 STRAIGHT OUTTA COMPTON is a movie that will smother your mother and make your sister think it loves her. Or at least it will give them more of an idea of what N.W.A was all about. Unless they already know alot about N.W.A, which come to think of it I do expect of your mother and your sister. They're pretty cool.
I've been thrilled about the idea of an N.W.A biopic for years. So far The Notorious B.I.G. is the only rapper to get one of these (the better-than-I-expected NOTORIOUS), though I remember when Steve James of HOOP DREAMS fame was supposed to be doing one on Grandmaster Flash starring Don Cheadle. A story from that era could be epic. And I would like to see an O.D.B. movie and possibly Public Enemy would work, but I don't know if there's much of an ending on that. N.W.A, to me, seems like the best choice for this treatment.
And their movie is pretty much what you'd expect. It captures some of the vitality and power of N.W.A and also has most of the weaknesses of biopics. I can't honestly claim it all works as a movie, but it celebrates N.W.A without being totally embarrassing about it, so I couldn't help but enjoy watching it. (read the rest of this shit…)
VERN has a new action-horror novel out called WORM ON A HOOK! He has been reviewing movies since 1999 and is the author of the film criticism books Seagalogy: A Study of the Ass-Kicking Films of Steven Seagal and Yippee Ki-Yay Moviegoer!: Writings on Bruce Willis, Badass Cinema and Other Important Topics as well as the crime novel Niketown.