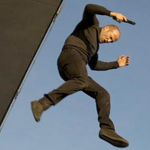 Jason Statham returns as Arthur Bishop, his character from the 2011 Simon West film THE MECHANIC. He is not the type of mechanic who might help out his driving characters in THE TRANSPORTER, THE ITALIAN JOB, DEATH RACE and FURIOUS 7. He's the type that is a euphemism for an assassin-for-hire, as seen in the original THE MECHANIC starring Charles Bronson and Jan Michael Vincent.
Having faked his death at the end of the first one, we find Bishop living an appealing lifestyle in Rio de Janeiro. (Do the people of Rio ever get tired of Hollywood helicopters swooping around that Jesus statue?) He's now known as Otto Santos and he lives on a nice houseboat where he sits and enjoys his espresso and reconstituted vinyl collection.
But one day a woman comes up to him, knows who he is, says her employer wants him to kill three people. Arthur "Otto 'The Mechanic' Santos" Bishop is no chump, though, so he fights her and her henchmen, escapes in spectacular (though blatantly green-screeny) fashion, and gets ready for a fight. There's almost a running joke about how many stashes he has around. When he self destructs his boat he goes right to a shipping container with guns and passports. When he resurfaces at his old hut on a picturesque beach in Thailand there's another stash under the floorboards. I bet if you dropped him off at any random spot in the North Pole it would turn out he hid some guns under the ice there years ago. (read the rest of this shit…)
VERN has a new action-horror novel out called WORM ON A HOOK! He has been reviewing movies since 1999 and is the author of the film criticism books Seagalogy: A Study of the Ass-Kicking Films of Steven Seagal and Yippee Ki-Yay Moviegoer!: Writings on Bruce Willis, Badass Cinema and Other Important Topics as well as the crime novel Niketown.