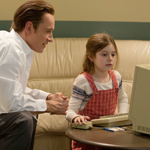 Looking back through my notebook I discovered that I wrote most of a review of STEVE JOBS back when it was in theaters, but I never typed it up. I guess since it wasn't nominated for best picture I didn't catch that when I was doing all the pre-Oscars reviews. But I think it's a movie worthy of more attention than it got, and it's available on video and I use a Mac so it seems only fair to finish it.
Steve Jobs was a genius and also an asshole. That's kinda the basics of Aaron Sorkin's screenplay, and many of his other screenplays, and therefore I have to guess something he can relate to. Like his other computer history piece THE SOCIAL NETWORK I think this one leans in the direction of genius not justifying assholishness, but it seems to be a question he struggles with.
I'm a little – not alot – familiar with the playwright turned TV mastermind's work. I know people who adore his shows Sports Night and The West Wing, and some who are masochistically fascinated with The Newsroom.
VERN has a new action-horror novel out called WORM ON A HOOK! He has been reviewing movies since 1999 and is the author of the film criticism books Seagalogy: A Study of the Ass-Kicking Films of Steven Seagal and Yippee Ki-Yay Moviegoer!: Writings on Bruce Willis, Badass Cinema and Other Important Topics as well as the crime novel Niketown.